Become a Business Intelligence Analyst.

Earn your industry recognized professional certificate in Data Analytics. Learn in-demand skills such as Data analytics, Data modeling, Databases, Data visualization and Dashboard Design.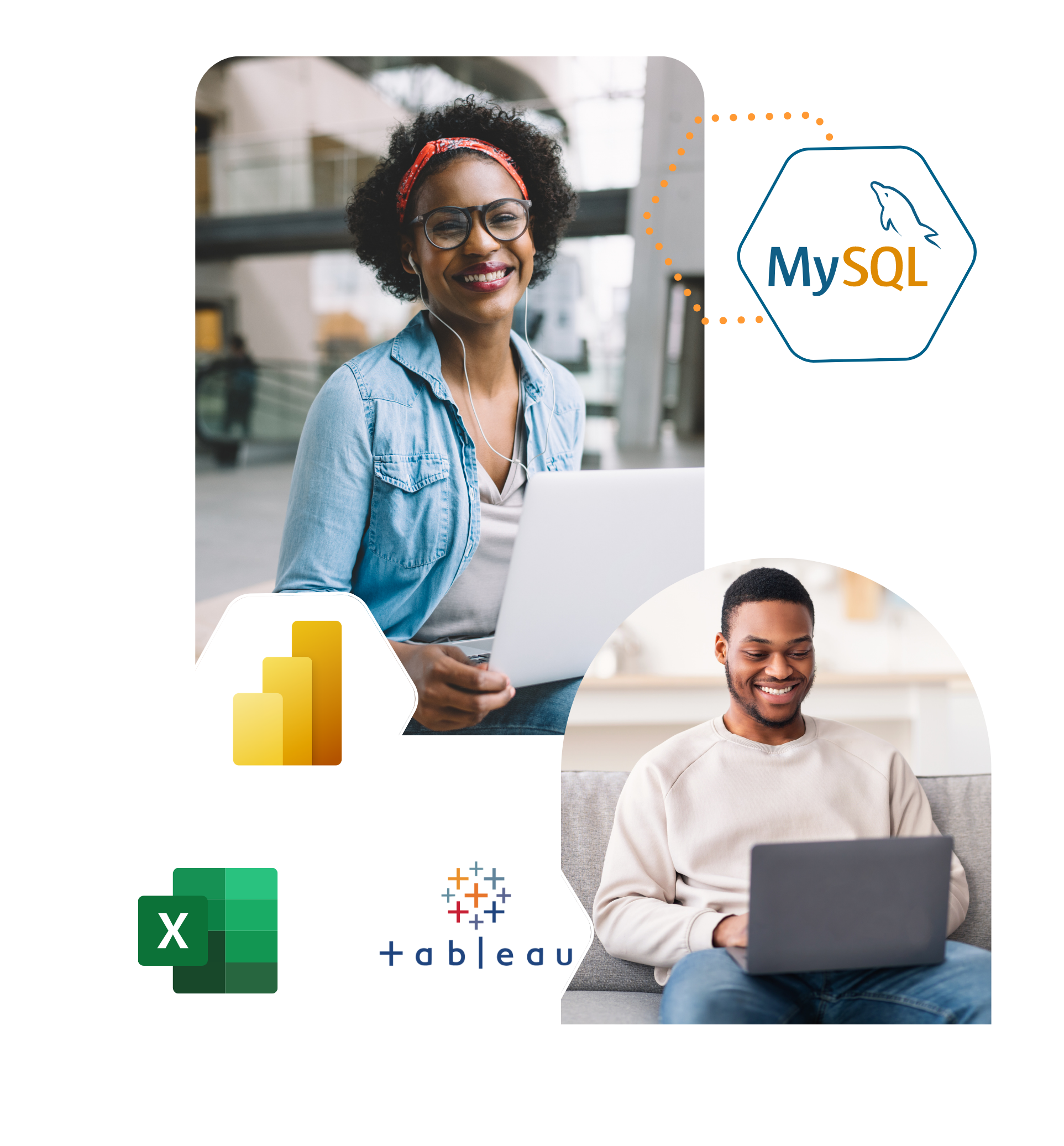 Business Intelligence Professionals manage data retrieval; organize data; interpret data in different ways to solve business problems. They also create data visualizations, dashboards, and other tools to provide stakeholder-ready insights.
This Bootcamp is your path to a career in business Intelligence. In this program, you'll learn in-demand skills that will make you job-ready in less than 6 months. If you are a working professional, this program will equip you with the skills to analyze and interpret data to drive faster and better business decisions.
No experience is required.


Learn in-demand BI skills

An online program that teaches you the skills for in-demand Business Intelligence role, supporting you on every step of the way.


Build relevant Data skills and take your career to the next level.
This Bootcamp is a 14 - week cohort-based learning program designed to equip you with practical skills to analyze and turn data into actionable insights. You will develop relevant skills in Data analytics and visualizations using Microsoft Power BI and Excel, Tableau, and SQL.

You'll learn through live instructor-led sessions, Self-paced online courses, guided projects and capstones.


Is this program right for you?
With the rise of data in today's economy, our program focuses on teaching learners both the soft and technical skills needed to analyze and solve complex data analytics and visualization problems using in-demand tools such as Microsoft Power BI, Tableau, Microsoft Excel, and SQL.

This Bootcamp is designed for a wide range of individuals, whether you are full-time working professional, student, or someone looking to start a career in BI.

No prior knowledge of programming or data analytics is required. However, a basic knowledge of Microsoft Excel is required. Try our free Excel Fundamentals course→



Intended Audience
This course is intended for a broad range of candidate backgrounds. It is suitable for professionals who want to learn how to accurately perform data analysis using Microsoft Power BI, Python and Microsoft Excel.
It is suitable for data professionals and business intelligence professionals who develop reports that visualize data from the data platform technologies that exist on both on-premises and in the cloud.
Aspiring Data analysts
Financial analysts
Data Scientist
Finance Professionals
Accountants
Business Analysts
Consultants
Research Professionals
Highly curated courses for your Business Intelligence journey
Learn relevant skills that will help you to kickstart your career as a Business Intelligence Analyst. There is no requirement for this Bootcamp. However, we recommend that students should have some fundamental knowledge of Microsoft Excel. Fundamental courses will be provided free of charge.




NEXT COHORT STARTS
JAN 07, 2023

📅 14 weeks Live sessions
⌚ Saturdays 8:30am - 11:30am
📹 10 hrs+ Online Content
All our Live sessions are facilitated by Certified Trainers and Industry Leaders in Data and analytics.
Live sessions are also recorded and accessed on our cutting online learning platform for reference and lifetime access.



Part-time schedule
We know you're busy, so we made it flexible.
Attend Live events combined with self-paced courses.
Our Pricing​
Pricing including:
Blockchain secured Digital Badges and certificates
Recorded videos and materials
Lifetime access to our premium self-paced online courses
14 Weeks of live instructor-led sessions and coaching


Get hired as a...
Business Intelligence Analyst
Data Analyst
Finance Analyst
HR Data analyst
Marketing Data analyst
Fraud Analyst
Data visualization Specialist