Become a Business Intelligence &
Data Analyst
Data Analysts are in high demand. The best place to become one is through FestMan Data School. Learn Microsoft Excel, Power BI, SQL and Tableau. Begin your Data Analytics Journey today.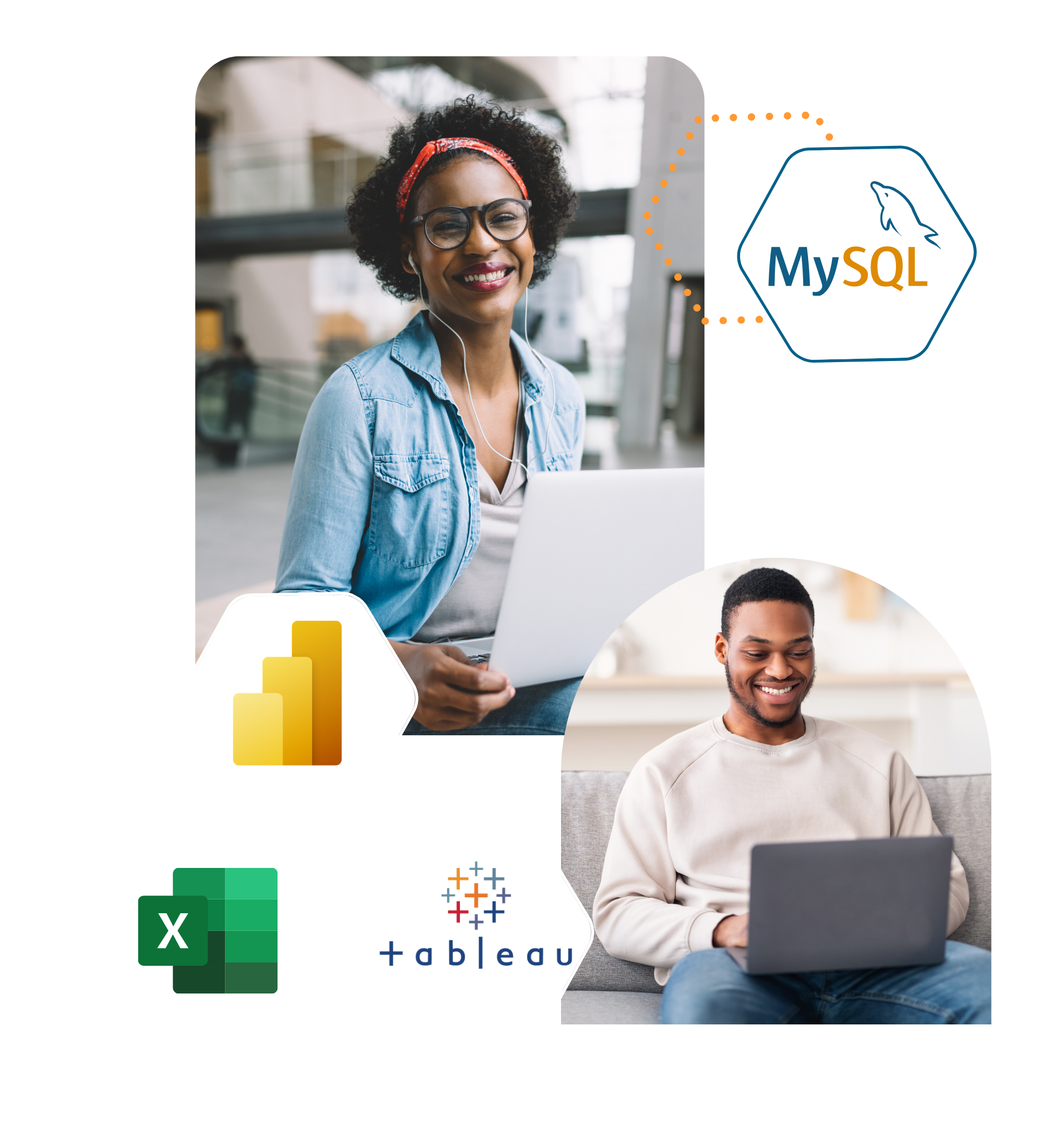 Why do you need to develop your Business and Data Skills?
The amount of data available to organizations has increased significantly in recent years. However, for this data to be valuable to organizations, they need to be able to analyze it, to identify patterns and trends in it. Data analytics allows organizations to do this and professionals who make this possible are Data Analysts and Scientists.
Data skills are no longer a skill set solely required of Data Analysts, basic data skills have increased in importance in nearly all departments—IT, marketing, product, HR, finance/accounting, and others—becoming the most important skill for success.
Professionals and graduates who know how to analyze and interpret data are in high demand.


Bootcamp Overview
This Bootcamp is a 14 - week cohort-based learning program designed to equip you with practical skills to analyze and turn data into actionable insights. You will develop relevant skills in Data analytics and visualizations using Microsoft Power BI, Modern Excel, SQL, and Tableau.
You'll learn through live instructor-led sessions, self-paced online courses, applied learning projects, peer-to-peer learning, and virtual internships.
Get started with our free introductory Data Analytics course.


What You'll Learn
.
The program's curriculum is challenging, comprehensive, and constantly updated, ensuring you are always learning the most in-demand data analytics skills, techniques, and tools used by Data Analysts. You will learn Modern Excel, Microsoft Power BI, Python, and SQL.


Sample Projects
.
You will learn how to analyze data and generate business insights. You will also learn how to transform your insights and tell story with your data.

📅 14 weeks Live sessions
⌚ 8:30am - 12:00pm on Weekends
📹 10 hrs+ Online Content
All our Live sessions are facilitated by Certified Trainers and Industry Leaders in Data and analytics.
Live sessions are also recorded and accessed on our cutting online learning platform for reference and lifetime access.



Flexible payment options
Pricing including:
Blockchain secured Digital Badges and certificates
Recorded videos and materials
Lifetime access to our premium self-paced online courses
14 Weeks of live instructor-led sessions and coaching.

Are you in Nigeria? WhatsApp +233541239290 for instructions on payment.




Our payment Policy
In the extremely rare event that a bootcamp must be cancelled due to unforeseen circumstances, a spot in an alternative session or a full refund of the registration fee will be provided.
What is our cancellation policy? We understand that plans can change. We aim to be as flexible as possible, with our cancellation policy varying by type of session as follows.
In-person bootcamp cancellations: The registration fee is non-refundable within 14 days of the scheduled workshop. In the event that you are unable to attend, you may have someone else take your place; please communicate this at least 24 hours in advance of the scheduled session.
Virtual session cancellations: Up to 24 hours before the start of the session, you may
transfer your registration to a colleague
transfer your registration to another session (where applicable)
cancel your registration and receive a full refund. This must be communicated to

[email protected]

at least 24 hours before the start of the session. Cancellations within 24 hours or no shows are not eligible for a refund.